Cadillac Palace Theatre | Chicago, Illinois
An iconic song, by an iconic band, now a spectacular show! Expect a heavy downpour of everlasting hits performed live on stage by Rain: A Tribute to the Beatles. 2019 marks the 50th anniversary of the release of the fab four's epic album 'Abbey Road'; and this show is indeed a timely celebration. Being the longest running Beatles' tribute act, Rain has toured and performed in countless venues and cities nationwide, as well as many parts of the world. Catch Rain – A Tribute to The Beatles, perform in this side of town on 14th April 2019 at the Cadillac Palace Theatre. If Rain comes, don't run and hide your heads, or else, you'll miss out on the fantastic experience coming your way. Run for your life and catch those previous tickets. Come together, get your feet wet, put your hair down, and dance in the rain!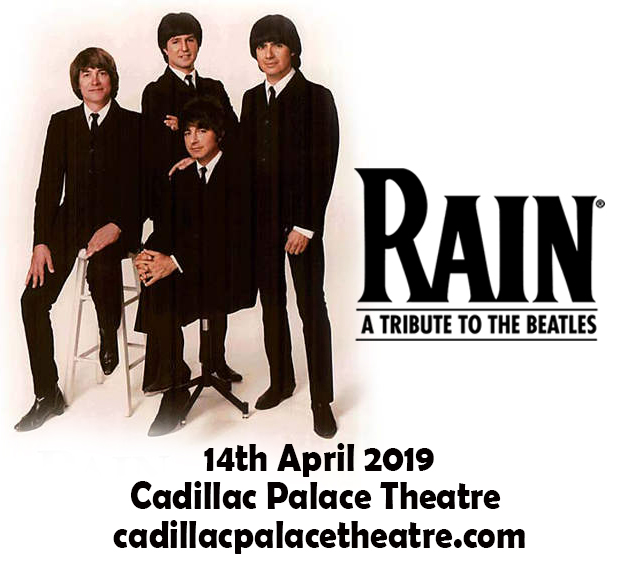 Ushering in the 50th-anniversary release of the iconic Beatles' album, "Abbey Road", Rain: A Tribute to the Beatles will be bringing this monumental record to life, giving their nearly identical rendition of each Beatle song on the celebrated album.
As the Associated Press, puts it more aptly:
This mind-blowing performance takes you back in time with the legendary foursome delivering a note-for-note theatrical event that is "the next best thing to seeing the Beatles".
Isn't it amazing to think that most of the songs on Abbey Road were never performed live by The Beatles themselves? Well, the Associated Press further ads that Rain may well be " The next best thing to seeing The Beatles."
Rain is said to be the longest running Beatles' tribute act. Formed in 1975 in Laguna Beach, California, 'Reign', as they were called back then, played both original and Beatles' covers. From then, Reign became Rain — from the title of one of The Beatles' B-sides. One of their first big breaks came when movie producer Dick Clark hired Rain to play an exact rendition of Beatles' song to be used for the Richard Marquand film 'Birth of the Beatles'.
Since then, playing nothing but Beatles' songs in different stages all over the world. Their set is a chronological history and musical journey via Beatles' songs, complete with their mop top evolution and facial hair changes and all!
The Band / current cast members include:
Steve Landes (Vocals, Rhythm Guitar, Piano, Harmonica)
Paul Curatolo (Vocals, Bass, Piano, Guitar)
Alastar McNeil (Vocals, Lead Guitar)
Aaron Chiazza (Drums, Percussion, Vocals)
playing John, Paul, George, and Ringo, respectively.
This is the show where babyboomers, gen-Xers, millennials, iGens can actually come together, where a splendid time is guaranteed for all! To take a trip down Abbey Road, all you need is a ticket. Get 'em or else, you're gonna miss a busload of music and memories.