Cadillac Palace Theatre | Chicago, Illinois
Their piano-driven pop-rock hits are still etched in the hearts of many…Indeed, the British rock band, Keane is one of the iconic acts that has created a strong impact among its legions of followers. Phones never stopped ringing, incessantly requesting an encore ever since they quietly bowed on stage and the concert curtain made its final drop in 2013. Fast-forward to 2019… Kean is back on the live concert stage with a tour dubbed as "Cause and Effect". Yes, that's the way they are — they'll never let their fans down to show up back onstage not just for an encore but for a full concert to boo! Yes, Keane is back on the road and taking the stage once more, and will be cruisin' by and get the motors running at the Cadillac Palace Theatre on Friday 20th March 2020. Don't miss your chance to be part of this amazing ride. Book your tickets now!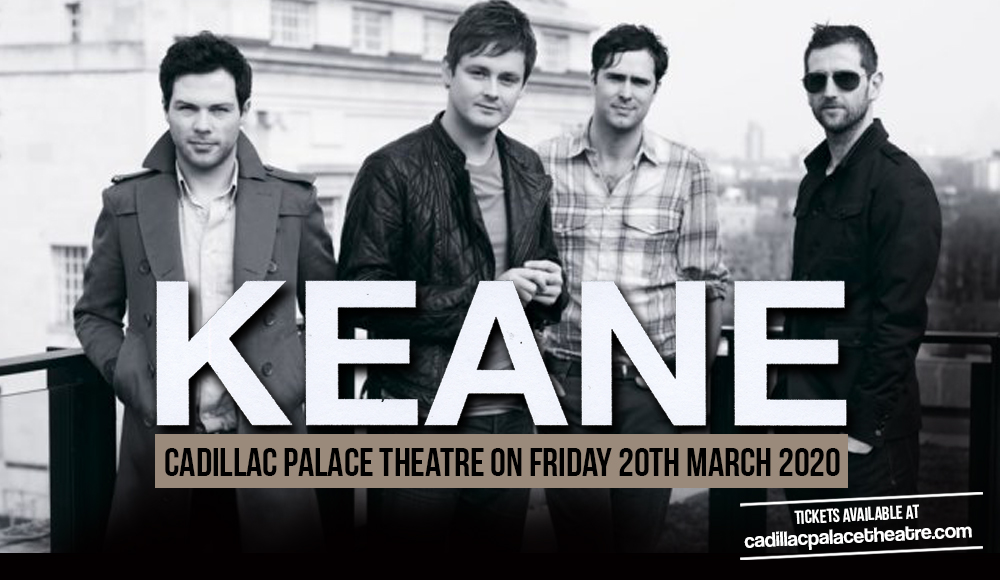 The year was 2013. Keane bowed out onstage, with maybe just a few had an inkling it meant to be their last performance as a band. No squabbles. No fights. No Twitter wars. The music simmered down 'til all went quiet on the Keane front.
Yet prior to that, Keane made a lot of noise. No, they're not the kind of rockband of you find smashing guitars on headbangers' ball. They rock the baby grand, they roll it with the piano. Keane has been dubbed as "the band with no guitars". And of course, Keane caused even more beautiful chaos as they achieved mainstream, international success with the release of their debut album, "Hopes and Fears", in 2004. It is this album that spawned their major hits "Somewhere Only We Know" and "Everybody's Changing". The album and the singles were making a killing everywhere. Keane took home the Brit Award for Best British Album of 2005 and was the second best-selling British album of 2004. It is one of the best-selling albums in UK chart history.
The band currently comprises Tom Chaplin (lead vocals, electric/acoustic guitar), Tim Rice-Oxley (piano, synthesisers, bass guitar, backing vocals), Richard Hughes (drums, percussion, backing vocals), and Jesse Quin (bass guitar, acoustic/electric guitar, backing vocals). As they regrouped and worked on the studio, then decided to get back on the road and tour, Keane realized they have completed the missing puzzle…
"I think we realized that we're more than the sum of our parts," says drummer Richard Hughes. "We're not the kind of band that broke up 20 years ago and is getting back together for one last tour, or for the money—we're not some heritage act," says songwriter and multi-instrumentalist Tim Rice-Oxley. "We've got a lot of great music in us."
Fired-up to make great music and slay it onstage, Keane will be one of the most reveled concerts you'll witness this year and beyond!